You're In Control Of Your Height
It sounds silly, but it's true.
People used to laugh at me when I'd tell them they could instantly 'grow' up to 3 inches taller.
And when I'd tell them about my inserts and they'd say: "Cool, but I mean adding 3 inches to your height isn't super noticeable.. and they're probably horrible to wear"
It looks pretty noticeable to me 👇 (P.S that's only 2 inches)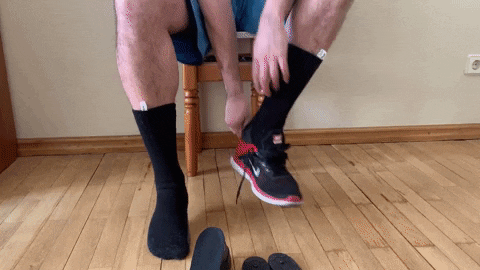 Feels Like You're Walking On Air
No matter how effective they are, most insoles are clunky and stiff, making them a nightmare to wear.
But More Height is a different story.
The second you stand on our insoles, you'll feel like you're walking on air... because you are!
More Height insoles have a built-in air cushion to keep you feeling your best, while looking your best.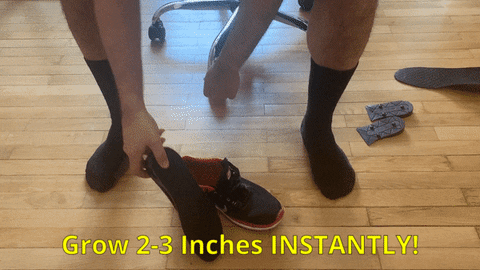 How To Gain Up To 3 Inches Instantly
It's really quite simple. All you have to do is slide More Height into your shoe and start wearing it.
Before you do that though, we recommend following these steps:
The first thing you have to do is trim the front edge of the insole (cutting guides are included) until it fits your shoe perfectly.
Once you've fitted the insole into your shoe, you can start using it right away if you're only looking to add an inch.
If you'd like to add 2-3 inches, take the provided blocks and snap them onto the bottom of the insole. Once they're connected, slip them back into your shoe and enjoy being 2-3 inches taller!
100 Day Money-Back Guarantee + Lifetime Warranty 
Try more height for 100 days and if you don't enjoy being up to 3 inches taller, contact us and we'll refund you within 24 hours - no questions asked. 
On top of our 100 day, 100% money-back guarantee we offer a FREE lifetime warranty on all orders. If your More Height insoles ever have any issues, contact us and we'll replace them for free. 

Frequently Asked Questions (FAQs)
Q: Does this work for both men and women?
A: Yes, More Height insoles can be used by men and women. Even if you have wide or narrow feet, you can adjust the insoles by cutting along the included guidelines to adjust the fit.
Q: Will this fit my shoe?
A: Yes, More Height insoles are fully adjustable! You can adjust the length and width of the insoles by cutting along the included guidelines. Our insoles will fit any size shoe perfectly with only a few minutes of adjustment. 
Q: Are they comfortable to wear?
A: Yes, thanks to the air cushion built into the insole.
Q: Do they make your feet smell?
A: Nope! More Height insoles are extremely breathable to keep your feet comfy, cool and odor-free!